Say hello to my friends, up close and personal. Jupiter has become well known for the abundant wildlife the proximity of the warm Gulfstream brings.We are blessed to enjoy year round adventure and some of the most consistent conditions in the state. We go out everyday. If you are a good diver and Nitrox certified, you are welcome to join us. Bring lots of gas, because all of our dives are three tank dives...and we serve a Gourmet box lunch!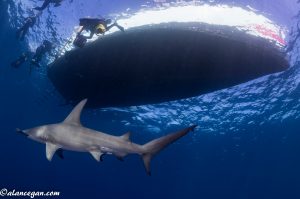 Dive Trips in Jupiter
If you're a good diver, then come dive with Emerald.  Jupiter has some of the best scuba diving in the state of Florida.
Shark Encounters
At Emerald Charters, we know how to find the sharks. Here in Jupiter, we see a variety of sharks on a regular basis. While we can't guarantee that you'll spot sharks on every dive (since they are wild Pelagic creatures), we almost always see a variety of sharks. Some of the species we've seen include, Bull Sharks, Hammerheads, Tigers, Lemon sharks and more. We've even spotted Whale Sharks and Manta Rays as well. The drift diving in Jupiter is like no other around. It's a swift current with clear blue waters. If you're nitrox certified, then set your sights on this great dive experience with us Emerald Charters